FULL TRUCK LOAD & LESS-THAN-TRUCK LOAD
Demanko has full truck load (FTL) and less-than-truck load (LTL) North American solutions, including Alaska, Hawaii, Canada and Mexico.

We have been providing full truck load (FTL) and less-than-truck load (LTL) solutions to the international freight community since 1992.
Our first and last mile solutions are dispatched efficiently using our state-of-the-art software system. Demanko can ensure your cargo is delivered before the cut off for exports and picked up prior to the last free day on imports.
White Glove
Trade Show
Expedited
Appointment Scheduling
24/7 Customer Service Team
Temp Controlled
Hazardous Certified
Liftgate Service
Airport & CFS
Less-than-truck load (LTL)
Demanko continues to invest in top of the line software and our partner development to provide reliable LTL solutions throughout North America. Whether it is an import, export, or domestic shipment Demanko can tailor a LTL solution to fit your needs.
Since 1992 Demanko has been providing customized LTL solutions for logistics professionals across various industries. Demanko's state-of-the-art software allows us to not only reduce transportation inefficiencies, it also enables us to provide a superior customer service experience. With real time updates, online tracking and customized reporting, working with Demanko can make managing your LTL cargo more efficient.
Our system allows us to pick up from airports and CFS's effectively. We have equipment routinely recovering from major air handling stations and CFS's throughout the United States. Having our experienced airport/CFS drivers allows us not only to recover within the free time and without delay, but also to follow any special pick-up instructions. Waiting for extended periods of time, outlay terminal/ storage charges, provide pallet exchanges, take photographs, document Tip and Tell readings/Shock Watch labels, Demanko has you covered.  In addition, our local warehouses give us control to execute the routing and delivery requirements effectively.
Full truck load (FTL)
Weather it's a single shipment, or an ongoing project,  Demanko's Integrated system gives us the ability to provide efficient FTL transportation solutions best suited for our customer's needs.
Our FTL network spans all of the US, Canada, and Mexico. We have the knowledge and experience to assign the best equipment with proper certifications for any particular shipment.
With our FTL equipment location system, we can match our customers loads with equipment on a similar route, thus giving us the ability to provide efficient movement of cargo. With the ever changing climate in the trucking industry, Demanko has controls in place to reduce empty miles and keep the freight moving.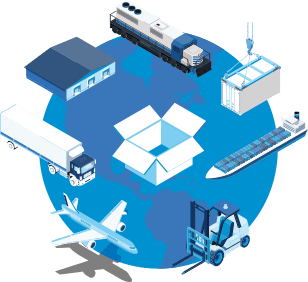 WHY CHOOSE
Demanko Logistics
Demanko Logistics is a multifaceted transportation company established in 1992. We specialize in ocean, warehousing, truckload, less-than-truckload, stevedoring, heavy-haul as well as air freight trucking services. Demanko Logistics Inc is a licensed national motor carrier/ broker, an non-vessel operating common carrier (NVOCC) and project cargo management company.