Demanko Logistics is a licensed National Motor Carrier/Broker that specializes in servicing Freight Forwarders and Customs House Brokers

We began providing logistics solutions as a Non-Vessel Operating Common Carrier (NVOCC) and bring the same neutrality to the first and last mile services for our international customers.
Demanko Logistics solution based transportation services include intermodal, full truck load (FTL), less-than-truckload (LTL), port & rail container drayage, and heavy haul in North America including Alaska and Hawaii. North America is our strong region, with trucks and warehouses located in almost every major city and port area, set up to perform cross-dock, trans-loading, container, special equipment drayage, and stevedoring services. Bottom line: transportation and logistics is what we do.
Customer Focus
Demanko Logistics is committed to serving the customer in any and all of their transportation needs and requirements. As a complete transportation management company we have the tools that are mandatory in handling any and all requests our customers may have. We pride ourselves on the fact that our job is not complete until our customer is satisfied.
Environment
Demanko Logistics is committed to the environment and truly running a green office. We run nothing but energy efficient light bulbs in our office's, in addition to energy star equipment, and we stick to a conscientious recycling schedule. Demanko's office's are completely paperless, our electronic dispatch and billing system is not only secure and efficient, it reduces our impact on the environment. We only have one planet, and at Demanko Logistics, we believe that everyone has a commitment to our precious environment.
Safety First
In all aspects of our operation safety is Demanko's first consideration. Not only when working in our warehouses or cross-dock facilities, but also on every shipment we dispatch. Our driver's routes and transit times enable Demanko to move the freight efficiently, but are also designed with safety in mind.
Security
Demanko Logistics is a proud member of US Customs-Trade Partnership Against Terrorism (C-TPAT). Our security systems, both in our electronic dispatch and record keeping systems, as well as our freight handling facilities are designed to keep the cargo moving securely. Keeping our customers freight secure every step of the way is a very important part of the Demanko transportation process.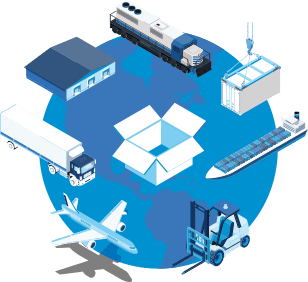 WHY CHOOSE
Demanko Logistics
Demanko Logistics is a multifaceted transportation company established in 1992. We specialize in ocean, warehousing, truckload, less-than-truckload, stevedoring, heavy-haul as well as air freight trucking services. Demanko Logistics Inc is a licensed national motor carrier/ broker, an non-vessel operating common carrier (NVOCC) and project cargo management company.