Demanko Logistics

 offers a distinctive continuous improvement approach to the design and delivery of our complete supply chain solution.

Demanko Logistics has experienced personnel ready to manage all of your transportation and logistics needs. Demanko provides a complete professional transportation and supply chain service. Our staff is equipped with our fully integrated paperless electronic dispatch and billing system that is secure and cost efficient. Our complete logistics service is in a true partnership with your organization. The Demanko staff coordinates all aspects of your distribution process.  From sales order to proof of delivery (POD) Demanko will move your goods seamlessly. Demanko HLC Logistics, Inc. is an extension of your business and operates like a department within your organization to achieve supply chain success.
Demanko Logistics  has contract rates directly with a number of rail carriers.  Coupled with our over-the-road network Demanko's intermodal service covers Canada, Mexico and the lower 48 states.  
Demanko Logistics  has developed a network of reliable over-the-road drivers that cover Canada, Alaska, Hawaii and the lower 48 states with full-truck-load coverage into and out of Mexico. 
Demanko Logistics offers a dedicated project cargo division to meet your Out-of-Gauge (OOG) needs. We provide realistic solutions to exceptional logistics challenges.
Demanko Logistics has an extensive nationwide network of warehousing facilities.Demanko is the solution for all your warehousing needs, whether your freight requires trans-loading, storage, blocking and bracing, or refrigeration, Demanko has you covered.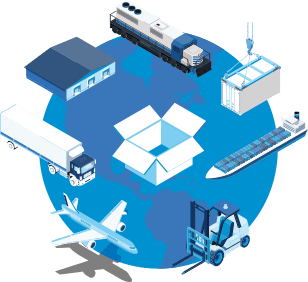 WHY CHOOSE
Demanko Logistics
Demanko Logistics is a multifaceted transportation company established in 1992. We specialize in ocean, warehousing, truckload, less-than-truckload, stevedoring, heavy-haul as well as air freight trucking services. Demanko Logistics Inc is a licensed national motor carrier/ broker, an non-vessel operating common carrier (NVOCC) and project cargo management company.