Our team was happy to help The Cheesy Baguette, a local New England company in Kennebunk Maine, with the import process, trans-load and delivery of this cute food trailer.  We were referred by our friends at Portland Air Freight (PAF) in Portland Maine to assist with the final mile. Helen from The Cheesy Baguette and H.B. Provisions in Kennebunk Maine tells the story below.
"I decided to get a food truck and searched and searched until I found the exact right food trailer. The challenge was getting it from China where they made it. The company in China gathered all the papers, sent them to me and I thought I could just pick it up in Boston where it was delivered. A friend of mine kept saying I needed an agent to help me get it through US Customs and out of the Terminal at the port but every time he mentioned that I just kind of glazed over not really paying attention.  So, I got notified that my trailer had arrived at Conley Terminal in Boston. I began making phone calls to the Steam Ship Line but was not able to get in touch with a person to help me. Next, I got an email saying I was now accruing storage fees for the container at the port. I finally told my friend I needed help, and did he know a company that could help me get the trailer? The next morning, I got a call from Oscar at Demanko Logistics asking if I needed help getting my trailer. I was so relieved to finally have someone on my side that could help me get my trailer. Within a couple days he had it through US Customs and released. I didn't have a way to get the trailer as I was leaving for a trip that day. Demanko got the food trailer out of the 20' ocean container and sent me pictures of it too. Demanko kept the trailer in their warehouse until I returned and then made all the arrangements for the trailer to be brought to me in Kennebunk, Maine. They took good care of my little trailer and expedited the process for me.
When I get another trailer, to expand my business, I will first call Demanko to arrange for the shipping and follow up with all the paperwork to get my trailer. I won't have to pay all those extra storage charges because they know exactly what to do to get cargo delivered stateside.
I feel so fortunate to have had a friend that put me in contact with Demanko and that Oscar and Ludivine were so helpful and kind through the process. I was feeling challenged with my ignorance of how the international ocean shipping process worked and Demanko made me feel at ease and confident for the remainder of the process."
Our colleagues and partner at CSC in Boston help with the transload and handling of the trailer, safely removing it from the 20'DV ocean container.
To learn more about The Cheesy Baguette visit www.thecheesybaguette.com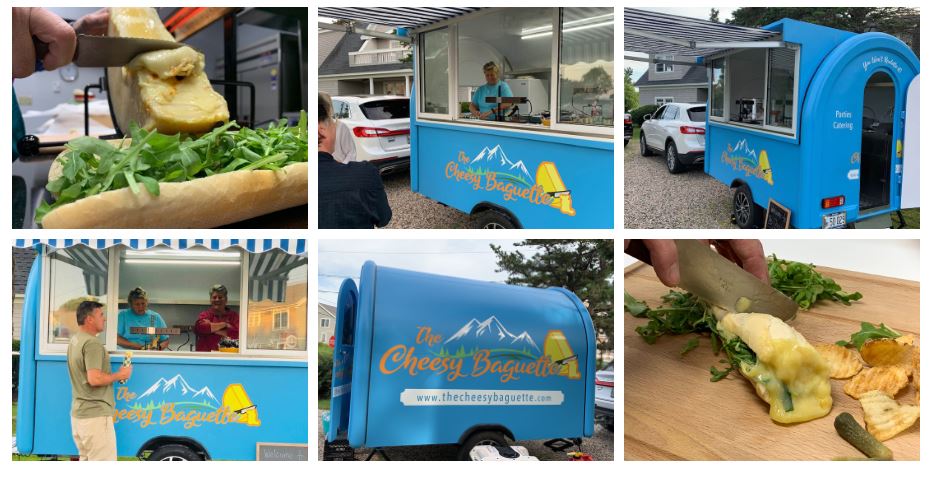 Thank you Helen and we look forward to enjoying your amazing tasty creations!
We hope to see our friends and colleagues at H.B. Provisions in Kennebunk Maine and be sure to keep an eye out for that adorable Cheesy Baguette trailer!
See you this summer!
What do you have to move? "Ship like a pro" call Demanko today!
Tel: 855-DEMANKO